November 1, 2016 | Posted in Advice, Career Coaching, Podcast | By Angela Copeland
This week, I'm bringing you another bonus episode!
I was recently a guest on the Memphis Success Podcast with Darnell Reid. We talked some about my background, and the inspiration for Copeland Coaching. I want to share our conversation with you.
Listen and learn more! You can play the podcast here, or download it on iTunes or Stitcher.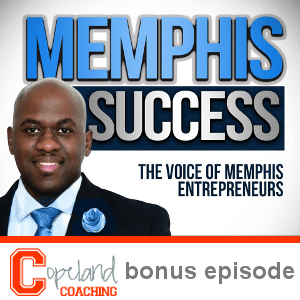 To learn more about the Memphis Success podcast, or Darnell Reid, visit www.memphissuccess.com.
Thanks to everyone for listening! I hope you've enjoyed this bonus episode.
If you have a question you'd like answered on a future Copeland Coaching Podcast, you can send your questions to Angela@CopelandCoaching.com. You can also send me questions via Twitter. I'm @CopelandCoach. And, on Facebook, I am Copeland Coaching. Don't forget to help me out. Subscribe on iTunes and leave me a review!
October 24, 2016 | Posted in Career Coaching | By Angela Copeland
Dear Friends,
Today is a very special day! I'm excited to share that Copeland Coaching has passed a big milestone. Copeland Coaching is THREE YEARS OLD!!!
It's been a fun, exciting, fulfilling journey. Thank you to everyone who has helped me out along the way. First, thanks to those who helped me setup the business. From help with my podcast to my company logo to putting together my office furniture, I couldn't have done it without you. Thank you for your help, and thank you for believing in me! 
To my clients, thank you for taking me along with you on your special journey. Helping you to find your purpose has been the most fulfilling work I've had the opportunity to do. Thank you for sharing your story with me. Thank you for letting me in. And, thank you for taking a risk to find your own true path. Thanks too for introducing your friends and family to me. I'm humbled every day when I receive referrals that weren't just sent from one person, but from multiple people. Thank you for your friendship.

This has been an awesome journey. I'm looking forward to even more exciting things in 2017. Stay tuned, and happy hunting!
Sincere thanks,
Angela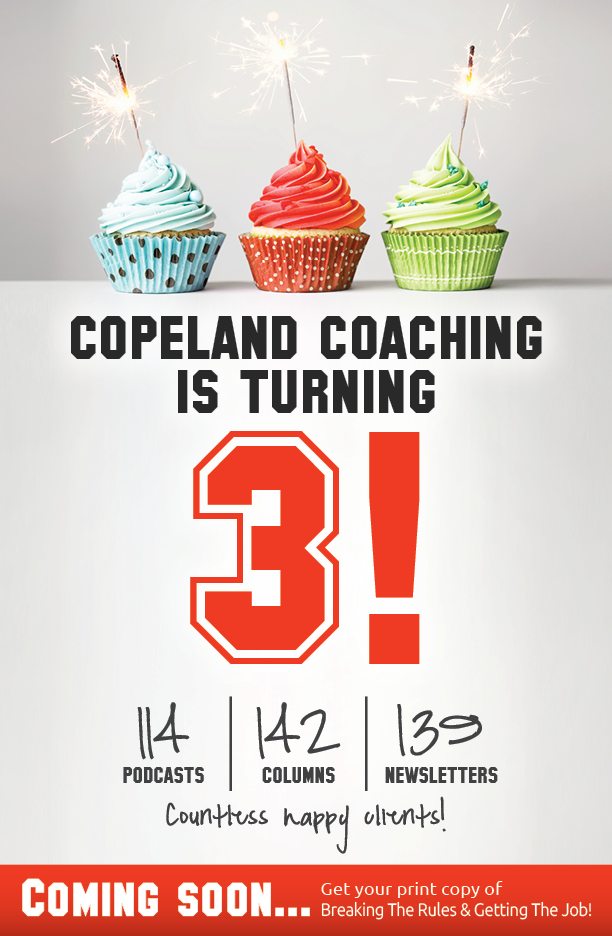 January 22, 2014 | Posted in Career Coaching | By Angela Copeland
Thanks so much to everyone who has been voting for me & Copeland Coaching in the FedEx Small Business Grant Contest.  So far, things are going well, but I need your help to stay in the competition.
The prize is $25K.  Voting is daily.  It's fast, and just takes one click.
Help me help others in the community find better, more fulfilling careers. Vote for Copeland Coaching in the FedEx Small Business Grant Contest.
Thanks for your vote!

Vote here: bit.ly/CopelandCoaching
January 17, 2014 | Posted in Career Coaching | By Angela Copeland
Dear friends,
I've been nominated for the FedEx Small Business Grant Contest. My small business, Copeland Coaching, is eligible to win up to $25,000.
But, I need your help! The winner will be decided through online voting. You can vote once EVERY day between now and February 23rd.
January 16th – February 23rd
As you know, I empower my clients to transform their careers through mentoring for goal setting, networking, interviewing, & offer negotiation.
Please help me transform my business with your vote (every day between January 16th – February 23rd)! It would also be wonderful if you could help me spread the word using your own social media.
Link to vote, daily: bit.ly/CopelandCoaching
Thank you in advance for your help. Feel free to call or e-mail me with any questions.
Sincerely,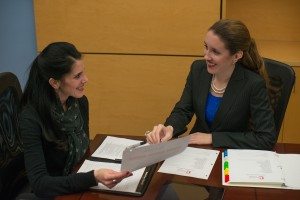 October 28, 2013 | Posted in Career Coaching, E-book | By Angela Copeland
After career coaching informally for 9 years, I'm launching my own practice: Copeland Coaching.  I provide assistance at all stages of the job-search process — including networking, interviewing and negotiation — and am available for those seeking a career change at all levels. I specialize in personal branding online, leveraging the Internet in your search, and creative job searching in a down economy.
I started coaching while attending graduate school at Pepperdine University. My professors noticed that I looked for jobs differently than the other students. They began referring students and professionals to me for career coaching, and would also ask me to give presentations on job-seeking skills. I've continued to coach informally since then, and recently felt called to turn it into a business.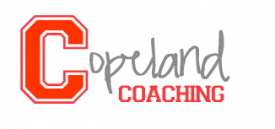 Even more exciting, I'm launching a new e-book that I've written, Breaking The Rules & Getting The Job.  The book provides practical, useful advice for those looking to improve their job-seeking outcomes. It is officially being released today and can be purchased on CopelandCoaching.com here.
For more information or to sign up with Copeland Coaching, contact me here.
Thank you to all of my wonderful friends who have supported me in my launch!
Happy hunting,
Angela