August 16, 2016 | Posted in Career Fulfillment, Change, Money, Negotiating, Pay, Podcast | By Angela Copeland
Episode 111 is live! This week, we talk with Rich Jones in San Francisco, CA.
Rich is a Technical Recruiter at a large dot com company. He's a certified professional in Human Resources with over seven years of recruiter and HR experience. Rich also co-hosts the Paychecks & Balances podcast. Paychecks & Balances is a fun-formative podcast covering work and money for the rising professional.
On today's episode, Rich shares the biggest financial issue faced today by professionals, how to ask your current boss for a raise, and secrets to effective negotiation at a new job.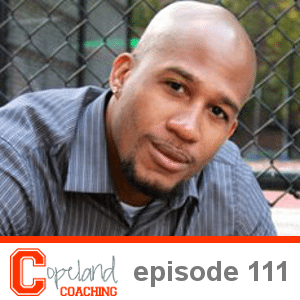 Listen and learn more! You can play the podcast here, or download it on iTunes or Stitcher.
To learn more about Rich's podcast, Paychecks & Balances, visit his website at PaychecksAndBalances.com.
Thanks to everyone for listening! if you have questions, you can e-mail me at Angela(at)CopelandCoaching(dot)com. If you've enjoyed the program today, please be sure to subscribe on iTunes and leave me a review!
June 27, 2016 | Posted in Advice, Change, Negotiating, Newsletter, Salary | By Angela Copeland

You probably already know. There's an ongoing debate going on. It's growing as workplace philosophies continue to evolve.
This is the question. How long should you stay at your current employer?
If you leave too soon, your next employer will think you job hop. They may think you have a problem with commitment. Perhaps you've been fired before. Or, maybe they'll assume you don't get along well with others. You definitely won't be someone they'll want to invest their company resources into.
That's true, right?
Not necessarily. Staying at a job too long may send signs you never even thought of. Your future hiring manager may think you're the kind of person who doesn't challenge yourself to grow. They may assume that your skills are rusty. They may wonder what's wrong with you… (Yes, what's wrong with you.)
In today's job market, it's not unusual to switch jobs every three to five years. In fact, many hiring managers appreciate someone with multiple companies on their resume.
Here are a few of the positive perceptions hiring managers have about employees who transition between different companies:
This person has a diverse skill set of knowledge
This person is a real go-getter
This person knows how to work well in many different environments
This person has many industry contacts
This person is self motivated
Don't get me wrong, this perception varies by industry. In certain industries, it is more important to change frequently while in other industries, staying for a long time can be valued. But, overall, it's becoming more and more expected that you change frequently. In fact, people hold more than ten different jobs in their lifetime today.
And, do you know what's more? The data suggests that employees who stay at companies longer than two years get paid 50% less over the course of their lifetime.
50% – that earning figure sounds crazy! Well, until you think of how hard it is to negotiate a good raise within your company. Where do you think all the raises are going to? They're going to outside candidates the company is trying to lure in.
So, what's holding you back? Do you think your boss is eventually going to recognize your brilliance (one day)? Do you feel under-qualified to take another job? Are you afraid of the interview process? Are you convinced there are no good jobs out there?
Or, are you sure that someone is going to appreciate your long term commitment?
If this is your strategy, I hate to break it to you, but it may not work. In fact, it could backfire in a big way.
Imagine you live in a small city where you're known for doing a particular kind of work for a certain company. You've earned respect for many years working at the same place. Then, you decide that you want to pick up and move to someplace bigger — maybe New York or LA.
And, all of the sudden, that longevity and respect don't take you as far. You may just look like someone who's comfortable… complacent… not committed to growth. You may have become someone with a tiny network of contacts.
Of course, the length of time truly varies by the type of profession you're in. But, keep that in mind when your great uncle (who has never worked a day in your field) starts to give you a hard time about job hopping. These relatives will often scare you with stories about the unknown. They talk about the possibility of failure, of being laid off, and of losing your health insurance.
But really, you're at risk anywhere you go. Jobs today are not a guarantee. But, if you do switch periodically, you will diversify your skill set – and your professional network. And, you will create a bigger safety net for yourself than you started with.
I hope these tips have helped you. Visit CopelandCoaching.com to find more tips to improve your job search. If I can be of assistance to you, don't hesitate to reach out to me here.
Also, be sure to subscribe to my Copeland Coaching Podcast on iTunes or Stitcher where I discuss career advice every Tuesday! If you've already heard the podcast and enjoy it, please consider leaving a review in iTunes or Stitcher.
Angela Copeland
@CopelandCoach
July 22, 2014 | Posted in Advice, Change, Informational Interviewing, Interviewing, Podcast | By Angela Copeland
Episode 9 of the Copeland Coaching Podcast is live! I'm so excited to share this great episode with you!
This week we talk with Julianne Watt, Project Coordinator at RedRover Sales and Marketing. Julianne shares her secrets to changing career fields, and how to find your perfect next job.
Listen and learn more! (You can play the podcast below, and you can also download it on iTunes.)
If you're not familiar with RedRover Sales & Marketing already, it's an advertising agency that integrates sales training and coaching with marketing and public relations, combining traditional and guerrilla strategies.

May 23, 2014 | Posted in Advice, Change, Media | By Angela Copeland
My latest Memphis Daily News column is out, "Scaling Your Career." In it, I encourage you to consider transition between different industries – and to learn about the differences that may hold you back during your search.
One of the most exciting career transitions job seekers make is changing industries. You may want to move from nonprofit to corporate or from a large organization to a small business. These moves expose you to a new workplace and can reenergize you if you're feeling burnt out in your current environment.
However, the one issue many job seekers struggle to understand is scalability. Scalability is an understanding of how your old work environment translates into your new work environment.
For example, a friend was recently working as a manager at a major university. He had 75 employees, large-scale projects and an impressive budget. Interested to move to a corporate job, he was concerned about titles such as "manager" and "director" that appeared on job postings. In the university setting, these titles were reserved for a select few with expansive responsibilities.
To read my entire article, and learn about how you can learn more about how to scale your career, visit the Memphis Daily News site here.
March 10, 2014 | Posted in Advice, Change, Newsletter | By Angela Copeland
Good morning! There's a decent chance that today you're a little tired. With the time change over the weekend, it seems that everyone's sleep schedule (including our animals and children) are a little off. The good news is we'll have more light to enjoy at the end of the day. That is, of course, after our sleep schedule adjusts to the new routine.  In the meantime, we're all a little grumpy about the entire situation.
Change is hard. It can be a long, sometimes painful process. But in the end, good things often come from it.
Are you someone who embraces change or who runs from it? If you got the impression your company was downsizing, would you start to look for another job, or wait for your boss to walk you out the door? I recommend the first, more proactive approach. It puts you in the driver's seat, and allows you to make your own decisions about your career path.
People often continue to do things they dislike until those things become unbearable for them. That's the point at which change typically happens. You may have noticed this with a friend who complains endlessly about some situation they claim to hate.  They keep repeating their behavior, and you wonder, "When will they ever change? They obviously aren't happy at all!"  And the answer is, they will change — when things become painful enough.
I encourage you to begin to embrace change in your life and career.  Start to look for opportunities for growth before you are forced to. Regardless of your position in your workplace, you are after all, the CEO of your own career. Nobody else is going to make sure you're taking yourself to the next level.
Growing your career is a job all in itself. It takes time, just like personal relationships, hobbies, or anything else you prioritize as important in your life.
Apple co-founder Steve Jobs once said, "For the past 33 years, I have looked in the mirror every morning and asked myself: 'If today were the last day of my life, would I want to do what I am about to do today?' And whenever the answer has been 'No' for too many days in a row, I know I need to change something."
Don't wait for a dramatic event to change your life. Take control now, and begin to look for small steps to grow and change at your own pace, in your own way. Think about your long term goals and how your daily activities align to them. Do they add or subtract from your plan?
Life is short, and your career is even shorter. Embrace your role as CEO, and look for opportunities to grow and change your career for the better each day.  You may just find that you end up with a little more sunshine in your life.
I hope these tips have helped you.  Visit CopelandCoaching.com to find more tips to improve your job search.
Happy hunting!
Angela Copeland